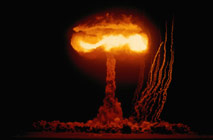 From the
Financial Times
by way of
Captain's Quarters
:
A UK government inquiry into the intelligence used to justify the war in Iraq is expected to conclude that Britain's spies were correct to say that Saddam Hussein's regime sought to buy uranium from Niger.
And then there's this from FOXNews:
Twenty experts from DOE's national laboratory complex packaged 1.77 metric tons of low-enriched uranium and roughly 1000 highly radioactive sources from the former Iraq nuclear research facility. The DOD airlifted the material to the United States on June 23 and provided security, coordination, planning, ground transportation, and funding for the mission.
So how did Bush lie again?